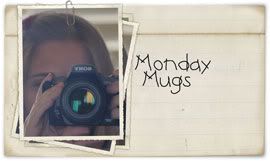 Are you in need of a mindless Monday Blog post? Are you struggling to deal with the weekend being over and don't want to can't muster the strength to type a single word? Well,

Monday Mugs

are for

YOU!
Mondays are hard! Blogging on Mondays shouldn't be!
Today's theme for Monday Mugs is:

Collages
So I am not a pro @ photo.shop or anything and quite frankly I was feeling a little too lazy

to try and figure it out. So, that being said, I leave you with these photos from another lazy day last week in which Kensi and I were looking for some

fun! We certainly found it. Oh and.... pardon my hair. No I am most certainly

not

wearing one of my daughters clips in my hair in an effort to keep those overgrown bangs out of my face. Nope. Not me!!